THERMOSTATIC MIXING VALVE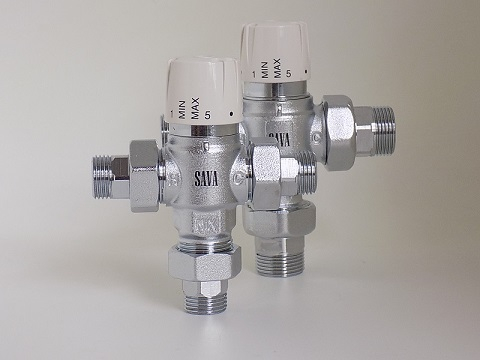 SCALD SAFE FUNCTION

ANTI-LEGIONELLA PROTECTION

QUICK REACTION TIME
ANTI-THERMAL SHOCK
PERFORMING UNDER VARYING PRESSURE CONDITIONS
What is a Thermostatic Mixing Valve?
ANTI-SCALD FUNCTION - A control valve that automatically calibrate the hot and cold water. It is widely used in electric water heaters, solar water heaters and central heating water systems. When the temperature adjustment knob sets a temperature, no matter how the cold and hot water inlet temperature and pressure change, the proportion of cold and hot water entering the outlet also changes, so that the temperature of the effluent is always kept constant.
If anyone flushes the toilet or open the kitchen faucet, the temperature of the shower will remain stable. In case the cold water supply fails, the flow of hot water will shut at once to protect user from scalding.
LEGIONELLA DISEASE - Installation of thermostatic mixing valves allows the central heating water system to be set to higher temperature to reduce the threat of bacteria growth.
Thermostatic Mixing Valve
with fail safe function
DZR-CW625N Brass
G1/2" G3/4"
24 months warranty
Made in Italy


Adjustable thermostatic mixing valve
- with anti-scald safety function
Available sizes: DN 15 20 25
Material: DZR Brass
Warranty - 24 months
Made in Italy